Once you have selected your Vegas World avatar's gender and either set up your account info with a name, email, and password (or skipped it), you're ready to play.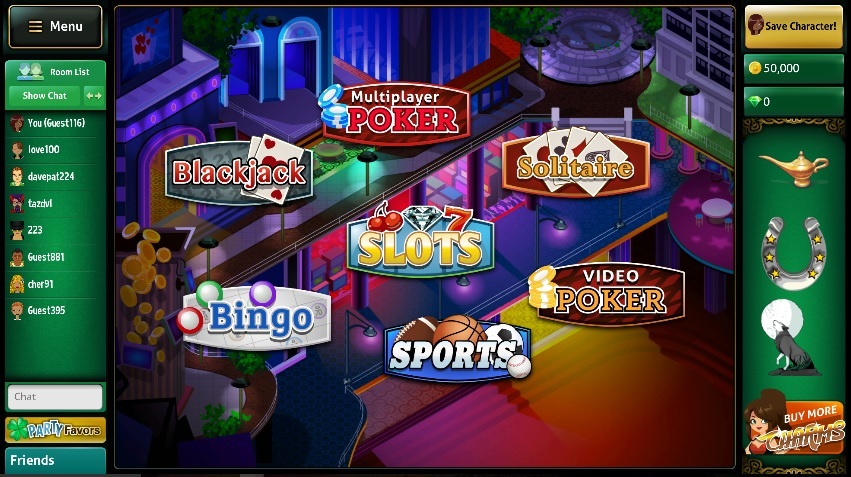 You can play Black Jack, Multiplayer Poker, Slots, Video Poker, Solitaire, Bingo, and Fringo* by selecting the game you want from the Casino screen. No matter where you are, selecting the "Menu" tab in the upper-left will give you the options to move to a new room or game.
Click "Save Character!" to save your account. Saving your account will allow you to choose your name and lets the game to keep track of your progress for the next time you play. Once you save, the game keeps track of your progress automatically, so you never need to save again. If you don't save you may lose your progress and that's no fun for anyone.
As you play the Vegas World games, you get experience based on the size of your wagers. The more you bet, the faster you level up. Leveling up provides free Coins, unlocks new slot games, and generally increases your overall prestige in the Vegas World community.
Bad luck? Vegas World Charms tilt the scales in your favor. Use your Gems to purchase Charms which add extra Coins to your winnings. The better the Charm, the more Coins it provides.
In addition to the games, Vegas World has a thriving social community. Players meet and chat in public areas like the Dance Club and the Pool area. Once you've met some other players, you can take part in exciting Vegas World parties where valuable Food and Drink Charms are bought and shared between players.
In addition to all that Vegas World already offers, new games, charms, clothes, and features are released every few weeks, so there's always even more Vegas style gaming action on the way.
* Fringo is not currently available for Android or iOS tablets.