If you are playing a "Guest<number>" account, you will want to save in order to benefit from all of Vegas World's features. Also, and more importantly, guest accounts are taking a big risk of losing everything as the only access to the account is stored in each computer's browser cookies, and if they get cleared (like through routine maintenance) your account could be lost!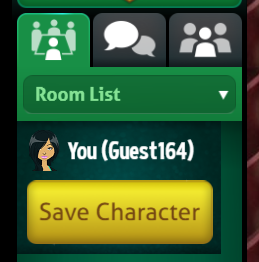 Click the large, gold, Save Character button in the upper left area of your screen. You will need to provide some very basic information (character name, email, password, age confirmation), and your account will be saved. Using the email and password you just provided, you can return to Vegas World on any computer, browser or tablet app, and your account will be waiting for you, including all of your Coins, Gems, Charms, friends, winnings, and achievements.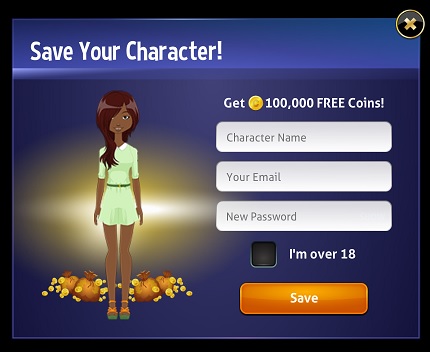 We just need four things to save your account. Name, Email, Password, and confirmation you're over 18 years old. Don't worry, we don't share your personal information with anyone for any reason.
All Vegas World Character Names and Emails must be unique to Vegas World, so if either is already taken by another Vegas World account, you'll need to select something at least a little different.
If you have created your Vegas World account on one of our many partner's sites, you may not need to save. Your avatar name will not say guest, and will, instead, have been assigned to you (probably based on an existing name of yours.) If that's the case for you you don't need to save at all as your account has already been created and saved for you. If your account is created in this manner, it can only be accessed through the service where you created it until you verify your Email address. Once you verify your Email, you can use that address to log in to Vegas World in any manner you choose, including from www.vegasworld.com.