Remember your best Vegas World times with pictures. The Vegas World Camera can be used to take photos in any room.
To find the Camera, make sure you've got the Room List open (the default) and click on your name to open your mini profile.
Taking Photos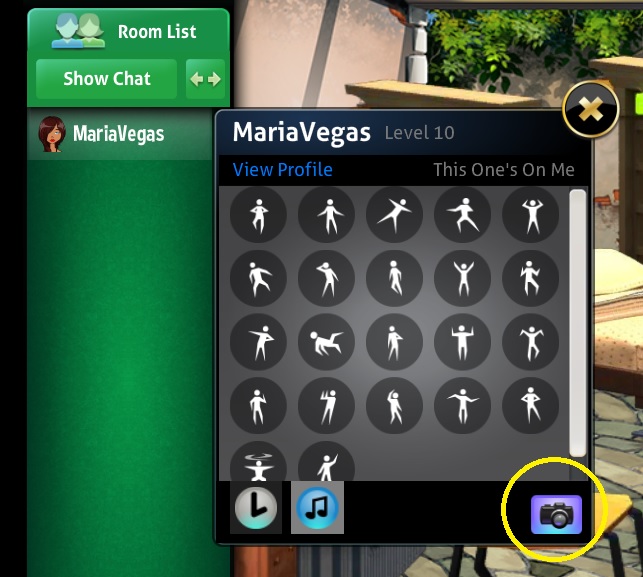 The Camera Button is found in the lower-right corner of your Mini Profile.
Click and drag the view to move the camera around. Click and drag the corners to adjust the size of your photo. The shape of the image is fixed, no matter how large or small you make it. Click Take Photo to save the moment forever.
Saving Photos

Once you take a photo, if you want to keep it, you need to save it. It's best to save them right away because all unsaved photos are lost forever if you sign out of your account or refresh your session. Save your Photos in your Profile's Photo page.

Maria has 2 photos to save. Click your Profile Button in the upper left corner, and then select Photos from the list that appears.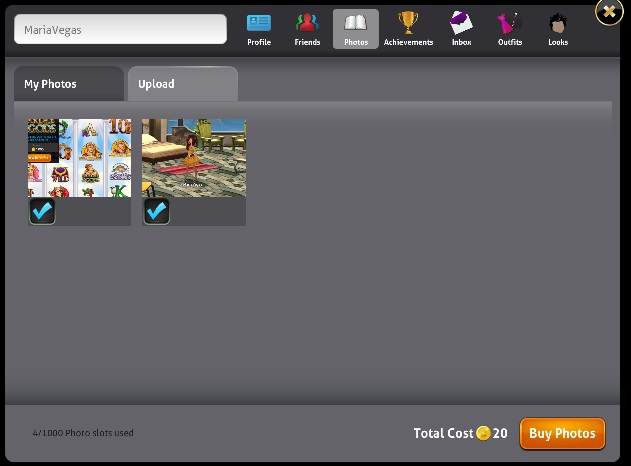 Each unsaved Photo will be displayed in the Upload section. To save them, click Buy Photos and you will be charged 10 Coins (not Gems, just Coins) for each Photo you save. Once saved, they will be added to your My Photos section permanently.